BDG Presents The Great Progression
The BDG Trends Group surveyed GenZs and Millennials to find out how they really feel about the world today.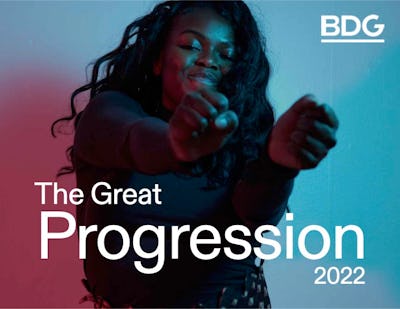 After one of the most consequential periods in recent history, GenZs and Millennials are emerging in a tidal wave of irreverent behaviors that mark counterculture movements in all aspects of life and culture. The BDG Trends Group analyzed fresh sets of beliefs, lifestyles, aesthetics, and leadership classes that define the Great Progression, a new era defined by GenZs and Millennials bucking the status quo and living their bold truths.
The Great Progression builds off the lessons we learned in the Age of Empathy (2021 study) where we found that GenZs and Millennials were leaning into human connection over technological connectivity. Today, fueled by instinct and self-reliance, young people are redefining American life.
Click here to see the results of the survey, along with the methodology, key takeaways, and more.